Forgot your password? Or, to request a login for this site, click here.
Austin Triathletes
P.O. Box 50004
Austin, TX 78763
The meeting and news source for triathletes in central Texas
Take a look at our most recent newsletter(January, 2005 – 3.9MB .pdf)
Brad Kearns at Next AT Meeting
Our next meeting will be at 7:30pm on Monday February 13th at Mother Egan's (715 W 6th St). The featured speaker will be Brad Kearns who will be speaking about his new book Breakthrough Triathlon Training: How to balance your busy life, avoid burnout and acheive peak performance. Visit his website for more details.
Also, the Board will be meeting just prior to the regular meeting (7pm) so if you would like to see what it is like behind the scenes you are more than welcome.
Letter From New AT President
First of all, let me introduce myself. My name is Joey and I am your new president. How did this all happen? The short version is that back in September I was approached about running for the AT board, accepted, and ultimately won a position. At our first board meeting we selected officers and it was agreed that I would be the public face of AT for the coming year. Another thing that was agreed was that I should write a letter to the membership to announce this fact and set a course for the coming year.

This week I have spent a lot of time staring at a blank computer screen trying to compose this letter. Now, this writer's block has nothing to do with having nothing to say. On the contrary, I have a lot to say – I just didn't know how to get started. Then, this afternoon, a letter came in through the website from a triathlete considering relocating to Austin. She wanted to know about the tri scene here and some information about the club. I hit reply and before I knew it I had written 5 paragraphs about what makes triathlon in Austin so special. I had to cut myself off before I started sounding like a zealot.

As I was hitting the send button it occurred to me why I have haven't finished this letter to the membership – I was dwelling too much on what was wrong with the club rather than focus on what is great. Look at any organization and you will find lots of things that should be fixed. It is easy to compile a laundry list of things that are messed up, but this isn't the time or place. Let's focus on what makes this club great and build on that.

Of course, the great thing about the Austin triathlon scene is the people. From the beginners just wondering how they are going to finish Danskin or the Rookie to the elite age groupers and our stable of pros, we have so many resources at our disposal. At any given AT meeting you can stand between a 4 time Ironman finisher and a BOP first timer and have something in common. At the risk of preaching to the choir, the sport of triathlon in Austin has never been stronger.

For aspiring triathletes in Austin the opportunities abound. Need a coach? We have more than our share of the best. There are programs and training groups for every skill level, distance, temperament, and schedule you can imagine. Need equipment? You could go into overload trying to decide which of our great bike shops to patronize. We have Barton Springs and numerous other swim venues, miles of roads with decent shoulders, and enough trails to keep you from ever being bored running.

As a club we have some absolutely fantastic members, and I'd like to point out four of them who have stepped to the plate for us. Don Young was our treasurer last year and will be the at large representative this year. Dave Sing, one of AT's founding members, is back to serve as our Vice President. Jay Weinshenker has taken over as treasurer, and Cam Ray will be our club reporter. In the first week they have been on the board I have been overwhelmed by their enthusiasm for the club and the creative ideas they have put on the table for building the club over the next year.

During the election, you were asked to fill out a survey. After tallying the results we saw that the membership expects guest speakers, training opportunities, sponsor benefits, and social activities. To that end, we are working on a lineup of speakers and events designed to cover all those bases. For instance, on January 9th Brad Davison, USAT President, will be in to discuss rule changes effective for the 2006 season. This should be a very interesting discussion due to the major overhaul of the rules governing age group placement. In February we will have Brad Kearns in to talk about his new book, and sometime this spring we hope to have a new meeting location where we can do things like a demonstration of power meters. Of course, if you have any ideas for a meeting/clinic topic we would love to hear about it.

As many great things as I expect from the other members of the board, I know that the only way this club can accomplish anything is through our volunteer committees. In the past we have had some tremendous volunteers coordinating things like sponsorships, membership, apparel, and our publications. Several of these positions are vacant, or the people performing them need additional help. This is your opportunity to leave your mark and contribute something to the club. Even if all you can do is submit and article or race report to the newsletter it would be appreciated.

So, as we head into the holiday season I want to wish you a safe and happy new year, and I'll see you at our meeting at Mother Egan's on January 9th.

Cheers,
-Joey Trimyer
Auburn International Triathlon – Early Registration Discount Expires on Dec 31!
Austin Triathletes save additional $10
Come to the Sierra foothills on May 20, 2006 and enjoy one of the most beautiful, challenging and fun triathlons you will ever experience: The Auburn International Triathlon features a new warmer water swim venue
at Folsom Lake and a new bike course
that offers extremely minimal traffic, unbelievable scenery and a unique challenge of all your cycling skills. Also new in 2006 is a shorter competitive option (held in conjunction with the long course event), the AIT Sprint Triathlon – a 500 meter swim – 13k (8 mi) bike – 3k (1.8mi) run.


Participant benefits are unrivaled at any race in the world! High performance tech fabric T-shirt ($30 retail), Specialized big mouth 24 oz AIT water bottle, artistic finisher T-shirt, $20 in gift certificates and lavish 5-deep awards in each age group. The gold rush town of Auburn, CA is only 40 min from Sacramento Int'l Airport, with discounted motels and great dining 3 mi from finish. The scenery in the Auburn State Park and
surrounding Sierra is absolutely stunning – some say the most beautiful race course in the world! This is a great spring event to build some strength and endurance for future competitions. Bike descents are safe and trail footing is always good. Average high on May 20 is 77 degrees with swim temp expected 62-65.

For the most comprehensive race web site in the world, visit www.auburntriathlon.com . Questions? Call 530-888-9911 or email [email protected]

2005 entry fees are $190 for long course. AT discount is $10 – choose the "Tri Club Name?" pop-up question at the Active.com registration page or note discount on printed form.
Click Here for Reg Details.
AT Gear is here!
AT club tri gear is in stock, and avaiable for you to purchase. There has been quite a clamor for this stuff all year; now that it's here, it's time for you to buy some.

Use the online store to pay with a credit card. If you'd prefer to pay by check you can send your payment to Austin Triathletes, P.O. Box 50004, Austin, TX 78763.

Prices are listed with the items in the store section online. Please be sure to specify gender and size when ordering. If you have any questions feel free to email Chris Flynn.
Club Sponsors
Check out these GREAT Club Sponsors! Please show them your appreciation for their support!!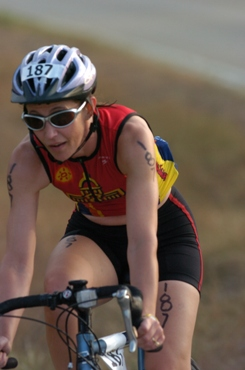 Race photos provided by Kreutz Photography. Thanks Liz!
Join the club!
Some areas of this site are available to AT members only. To take advantage of ALL of the content and interactive features, take a moment to join now!
Upcoming Events
No Upcoming Events found. Check back soon!
Latest News
The AT Hill Country Wine-O – CANCELLEDA small group of AT members have teamed up with the proprietors of the Mt. Gainor Inn to offer club members and their friends a fun weekend of fun, food, and fine Texas wine. Take a look at the calendar listing to see all the details, optinons, and get registered!
More Articles
Welcome to our newest club sponsor! Want a discount on a Computrainer? Dare to Prepare Real Clif Bar Athletes Raising the Bar! New Trails … New event
Austin Triathlete Site Map | Privacy Policy | RSS Index | Tendenci® Membership Management Software